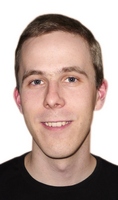 Dr Markus Ojala
In 2007-2011, I worked as a researcher under supervision of Professor Heikki Mannila in Data Mining Group at Department of Information and Computer Science of Aalto University School of Science. In November 2011, I defended my PhD thesis titled Randomization Algorithms for Assessing the Significance of Data Mining Results.
I am currently working in industry. For more information, see my
.
Publications
Activities
I was the course assistant of T-61.5060 Algorithmic Methods of Data Mining in 2010.
I organized the Nordic Collegiate Programming Contest at TKK in 2009 and 2010. It is a subregional contest of the ACM-ICPC International Collegiate Programming Contest.
Contact information
Email: first.last@aalto.fi

Page maintained by Markus.Ojala at tkk.fi, last updated Sunday, 27-Nov-2011 19:29:48 EET