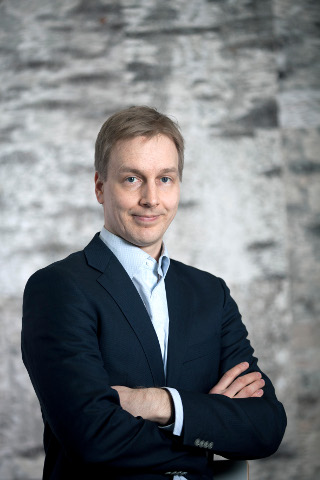 Tapani Raiko
Assistant Professor, Academy Research Fellow
Office:

Room A323 in Computer Science Building,
Konemiehentie 2, Otaniemi campus area, Espoo

Postal Address:

Department of Information and Computer Science,
P.O. Box 15400, FI-00076 Aalto, Finland

Phone:

+358 50 4301659 (office) +358 50 5225750 (personal)

Email:

firstname.lastname@aalto.fi
Research
I am an assistant professor in the Deep Learning and Bayesian Modelling group in the Department of Information and Computer Science in Aalto University School of Science.
My research topic is deep learning. After my doctoral degree, I returned to basics in a sense, improving very basic machine learning methods such as principal component analysis and the restricted Boltzmann machine. My application areas have ranged from control of mechanical systems to image segmentation and classification of proteins. My h-index is 15 and my Erdös number is 3.
Around 2013, I was mainly working for ZenRobotics Ltd. as a senior scientist, and only held a side-job at the university. See videos trailer 1 and trailer 2 about ZenRobotics.
I visited Yoshua Bengio's group for 5 months in 2014.
Teaching
Artificial Intelligence (2015)
Machine Learning: Basic Principles (2009, 2010)
Learning Deep Architectures for AI (2010)
Machine Learning: Advanced Probabilistic Methods (2008, 2009)
Research Project in Computer and Information Science (2008)
Principles of Pattern Recognition (assistant 2006, 2007)
Information Visualization (assistant 2004)
Graduate Students
Pyry Takala (2014-)
Antti Rasmus (2014-)
Mathias Berglund (2013-)
KyungHyun Cho (DSc 2014)
Undergraduate Students
Miquel Perelló Nieto
Jelena Luketina
Tele Hao (MSc 2012)
Tommi Vatanen (MSc 2012)
Roberto Calandra (MSc 2011)
KyungHyun Cho (MSc 2011)
António Gusmão (MSc 2011)
Katariina Nyberg (MSc 2011)
Matti Tornio (MSc 2010)
Markus Harva (MSc 2004)
Adminstration
I am active in the Finnish Artificial Intelligence Society, having been the organising chair of some of its conferences (SCAI 2006, STeP 2008), and the local arrangement chair of the MLSP 2010 workshop. I have also been the academic coordinator of the Master's programme on Machine Learning and Data Mining.
Interests
I am interested in board games, I have for instance implemented AI players for Go and some connection games. I also sing in vocal groups and enjoy music. My latest hobby is juggling.
Journal articles
Book chapters
Theses
Edited books
Conference papers
Other publications

Software packages released by the Deep Learning and Bayesian Modelling group