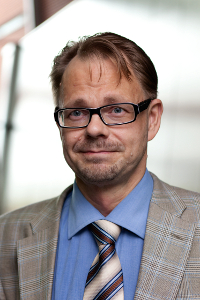 Tomi Janhunen
Doctor of Science (Tech.)
Docent in Information and Computer Science
Mail address

Aalto University School of Science
Department of Information and Computer Science
PO Box 15400, FI-00076 Aalto, Finland

Visiting address

Konemiehentie 2, Espoo/Otaniemi, Office B335

Phone

+358 50 430 0820

Fax

+358 9 855 0114

E-mail

Firstname.Lastname@aalto.fi

Office hours

Mondays 16:15—17:00 (September 1—December 15, 2014)

Exceptions
Knowledge representation and automated reasoning
Answer set programming: modularity, verification, optimization, etc.
Satisfiability checking
Satisfiability modulo theories
Mixed integer programming
Smart spaces
Distributed computation (multiprocessor architectures, computational grids, clouds)
Nonmonotonic logics and their expressive power
Computational complexity
PC Co-Chair
Senior PC Member or Track Chair
Co-Organizer
PC Member
I have personally reviewed over 180 articles for approx 50 conferences such as AAAI, ASP, CADE, CL, ECAI, ECSQARU, ESSLLI, ICLP, IJCAI, IJCAR, JELIA, KI, KR, LASH, LPAR, LPNMR, NMR, PADL, and PLILP. Moreover, I have reviewed over 40 articles for the Journals listed below:
Artificial Intelligence Journal
ACM Transactions on Computational Logic
ACM Transactions on Knowledge and Data Engineering
AI Communications
Annals of Mathematics and Artificial Intelligence
Computational Intelligence
Computer Languages, Systems & Structures
Fundamenta Informaticae
Journal of Applied Logic
Journal of Automated Reasoning
Journal of Logic and Computation
Logical Methods in Computer Science
Theory and Practice of Logic Programming
I am the lecturer of the following courses (academic year 2013-2014) at Aalto University:
Some courses that I have lectured in the past:
TIK.Kand Bachelor's Thesis and Seminar
T-0.7050 Introduction to Postgraduate Studies in Computer Science (2cr, spring term 2007, periods III and IV) together with H. Haanpää and N. Oza
T-79.3001 Logic in Computer Science: Foundations
T-79.5102 Special Course in Computational Logic
T-79.5103 Computational Complexity Theory
T-79.230 Foundations of Agent Based Computing
Further points of interest:
T-79.5001 Student Project in Theoretical Computer Science (5cr, any period)
I instruct/supervise M.Sc., Lic.Sc., D.Sc./Ph.D. theses at Aalto University
I am affiliated with Helsinki Graduate School in Computer Science and Engineering HeCSE.
I have completed 15-credit pedagogical studies in 2005.