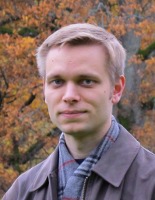 Sami Virpioja
D.Sc. (Tech.), Researcher
Office:

Room T-A316 in Computer Science Building,
Konemiehentie 2, Otaniemi campus area, Espoo

Postal Address:

Aalto University School of Science,
Department of Information and Computer Science,
P.O. Box 15400, FI-00076 Aalto, Finland

Telephone:

+358 50 4301966

Email:

firstname.lastname@aalto.fi
About me
I am interested on how methods of machine learning can be used to model complex phenomena such as language. Due to the sparsity of language data, it is relevant to find structures that can be used to represent the data more efficiently. For an example, see the page of the Morpho project and demonstration of the Morfessor algorithm. My research topics include also practical applications of statistical language modeling, especially speech recognition and machine translation.
I collaborate with the Computational Cognitive Systems and Speech Recognition research groups at Aalto University.
I work also at Lingsoft.
See the complete list of publications or the selected papers below. Click on a publication title to check availability and bibtex entry.
Doctoral thesis
Sami Virpioja (2012).

Learning Constructions of Natural Language: Statistical Models and Evaluations. Aalto University, Doctoral dissertations 158/2012.
Journal articles
Teemu Ruokolainen, Oskar Kohonen, Kairit Sirts, Mikko Kurimo, and Sami Virpioja (2016).

A Comparative Study of Minimally Supervised Morphological Segmentation. Computational Linguistics, Volume 42, Issue 1, March 2016, pp. 91-120.

Selected conference and workshop papers