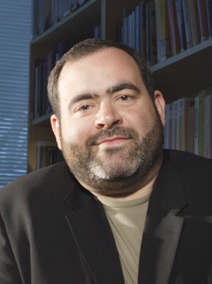 Ricardo Vigário
Senior Researcher
Docent in machine learning in neuroinformatics
Head of the Neuroinformatics research group.
Office:
Room A345 in Computer Science Building,
Konemiehentie 2, Otaniemi campus area, Espoo
Postal Address:
Aalto University School of Science,
Department of Information and Computer Science,
P.O. Box 15400, FI-00076 Aalto, Finland
Telephone:
+358 9 470 28217
Fax:
+358 9 470 23277
Email:
firstname.lastname@aalto.fi
Research Interests
Fields of interest include Statistical Signal Processing; Adaptive Systems and Machine Learning, in particular when applied to: Neuroinformatics; Medical Engineering; Human Brain Mapping/Understanding; Computational and Cognitive Neuroscience; Biophysics; Image Recognition and Processing.
Courses
Currently responsible for the following courses:
t-61.5080
- Signal Processing in Neuroinformatics
t-61.5090
- Image Analysis in Neuroinformatics