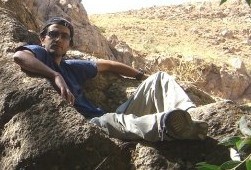 Pejman Mohammadi
I moved to ETH-Zurich, this page is out of date.
My current webpage can be found here at Computational Biology Group at the Dept. of Biosystems Science and Engineering, ETH-Zurich.

I joined CIS laboratory at TKK in Automn 2008, starting my work in the Statistical Machine Learning and Bioinformatics research group. However, I sometimes can be found at Plant Stress Group in University of Helsinki among our Biologist Cooperators.

My research area includes Data Fusion, Genomic/Metabolic Pathway reconstruction and Multi-view Learning. More information about our research in Bioinformatics can be found in HERE

I did my masters in Bioinformatics at MBI cooperative program held by Helsinki University of Technology and University of Helsinki and my thesis was on Bayesian Integrative Modelling of Metabolic and Transcriptional Data Using Pathway Information.

I'm a former member of Bioinformatics group at the Institute for Research in Fundamental Sciences(IPM) , and Data Mining Laboratory at Isfahan University of Technology from where I received my BSc. degree in Software Engineering.