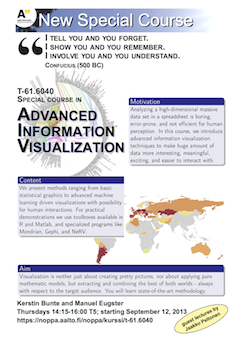 Stories about movies!
Presentations from the final project in the Advanced Information Visualization course, Fall 2013. The exercise was to create a presentation using a preprocessed IMDb data set.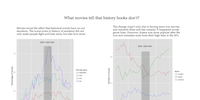 What movies tell that history books don't?
by Rami Honkanen
Poster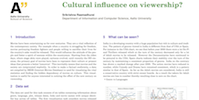 Cultural influence on viewership?
by Srikrishna Raamadhurai
Poster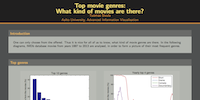 Top movie genres: What kind of movies are there?
by Tuomas Sivula
Poster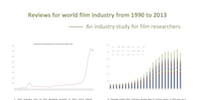 Reviews for world film industry from 1990 to 2013 - An industry study for film researchers
by Zhe Xie and Yang Zhao
Poster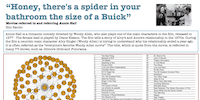 "Honey, there's a spider in your bathroom the size of a Buick": Movies referred in and referring Annie Hall
by Sini Rautio
Poster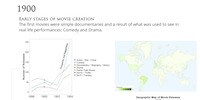 How Human History Dictated the Movies Genres
by Daniel Vieira
Poster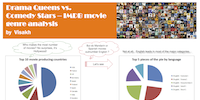 Drama Queens vs. Comedy Stars - IMDB movie genre analysis
by Visakh Chandramohanan Nair Rani
Poster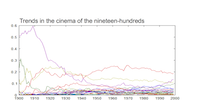 Trends in the cinema of the nineteen-hundreds
by Eelis Solala
Poster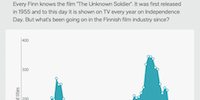 Beyond the Unkown Soldier: Finnish Film Industry Through The Ages
by Laura Koponen
Website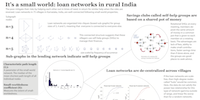 It's a small world: loan networks in rural India*
by Mainak Jas and Cathy Nangini
Poster
|
Data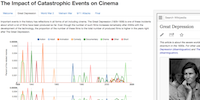 The Impact of Catastrophic Events on Cinema
by Basak Eraslan, Gökcen Eraslan, and Ehsan Amid
Website
|
GitHub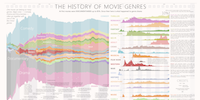 The History of Movie Genres
by Angie Skazka
Poster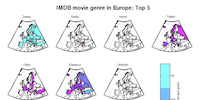 IMDB movie genre in Europe: Top 5
by Javeria Ali and Maia Malonzo
Poster