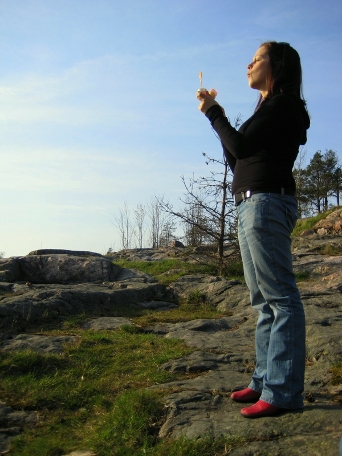 Dr. Emilia Oikarinen
Post-Doctoral Researcher
Academic coordinator of FAdCo
Office:

Room B356, Computer Science Building, Otaniemi
(Contact info)


Telephone:

+358 50 430 1461

Email:

firstname.lastname@aalto.fi

Office hour:

by appointment, contact by email
My most recent research involves application of data mining methods on e.g. fossil data and studying equivalence relations for abstract argumentation frameworks. Overall I'm interested in constraint-based reasoning methods (in particular, but not limited to, nonmonotonic reasoning, answer set programming, aspects of modularity and equivalence, ...), algorithmic data mining, and combinations of the topics.
Starting from August 2010 I have worked as postdoctoral researcher at Department of Information and Computer Science at Aalto University. Currently, I'm working on a Academy of Finland funded post-doctoral project "Constraint-Based Reasoning for Data Mining" (Sep. 2011-Jan. 2016, during 2012 and 2013 I have been mostly on maternal/parental leave / working part-time). I'm affiliated with Computational Logic Group and I am a member of the Finnish Centre of Excellence in Computational Inference Research (COIN).
Between Jan.-July 2010, I worked as postdoctoral researcher at Algorithmic Data Analysis (Algodan) Centre of Excellence at Helsinki Institute for Information Technology HIIT/ Department of Computer Science at University of Helsinki.
During the years 2001-2009 I worked on Academy of Finland funded projects: Methods for Constructing and Solving Large Constraint Models (2007-2009), Advanced Constraint Programming Techniques for Large Structured Problems (2005-2007), and Applications of Rule-Based Constraint Programming (2002-2005).
A complete list of my publications with downloadable papers and bibtex entries is available organized by type and by year.
An (incomplete) listing of my publications is available also at DBLP .
Most recent papers
Optimizing Phylogenetic Supertrees Using Answer Set Programming, TPLP (selected papers of ICLP 2015), to appear
Answer Set Solver Backdoors, JELIA 2014
Resolution-based grounded semantics revisited, COMMA 2014
Program Committee Chairing
Co-chair of 4th International Workshop on Logic and Search (LaSh 2014), Vienna, Austria, July 18, 2014.
Program Committee Memberships
Organization
Reviewing of Scientific Manuscripts
Journals
Journal of Artificial Intelligence Research (JAIR): 2015, 2014, 2013
Theory and Practice of Logic Programming (TPLP): 2015, 2008
Journal of Logic and Computation (JLC): 2015, 2008
Artificial Intelligence: 2012
AI Communications: 2010
ACM Transactions on Computational Logic (TOCL): 2010, 2009
Mathematical Reviews (MR): 2009 ->
Conferences (excluding PC memberships)
International Conference on Theory and Applications of Satisfiability Testing (SAT): 2015, 2014
International Symposium on Principles and Practice of Declarative Programming (PPDP): 2013
RCRA International Workshop on "Experimental Evaluation of Algorithms for Solving Problems with Combinatorial Explosion": 2013
International Conference on Logic Programming and Non Monotonic Reasoning (LPNMR): 2013, 2011, 2005
International Workshop on Non-Monotonic Reasoning (NMR): 2012
Conference on Artificial Intelligence (AAAI): 2011
International Conference on Scalable Uncertainty Management (SUM): 2011
European Conference on Logics in Artificial Intelligence (JELIA): 2010, 2008, 2004
International Conference on Principles of Knowledge Representation and Reasoning (KR): 2008
International Conference on Logic Programming (ICLP): 2005, 2004
Answer Set Programming: Advances in Theory and Implementation (ASP): 2005
International Conference on Logic for Programming Artificial Intelligence and Reasoning (LPAR): 2005
Awards
Best Student Paper award at ICLP 2007, 23rd International Conference on Logic Programming
Helsinki University of Technology Master's Thesis award 2004
Funding
Post-doctoral research grant for project "Constraint-Based Reasoning for Data Mining", Academy of Finland, Sep. 2011-Jan. 2016
Aalto University School of Science and Technology postdoc project "Compositional Nonmonotonic Constraints for Building and Reasoning about Large Knowledge Bases", Aug. 2010-(July 2013)
Funded graduate school position for Jan. 2004-Dec. 2007, Helsinki Graduate School in Computer Science and Engineering (HeCSE)
Grants
Grant for doctoral studies, Finnish Foundation for Technology Promotion TES, 2008 and 2006
Grant for doctoral studies, Emil Aaltonen Foundation, 2007
Grant for doctoral studies, Kainuu Foundation of Finnish Cultural Foundation, 2006 and 2005
Nokia Scholarship, Nokia Foundation, 2004
Courses lectured (responsible teacher for)
Teaching assistant
T-79.3001 Logic in Computer Science: Foundations, Spring 2008, 2007, 2006 /
T-79.144 Logic in Computer Science: Foundations, Autumn 2004, 2003, 2002, 2001.
T-79.1001 Introduction to Theoretical Computer Science T, Autumn 2007, 2006 /
T-79.148 Introduction to Theoretical Computer Science, Spring 2005, Autumn 2004, Spring 2002.
T-79.1002 Introduction to Theoretical Computer Science Y, Autumn 2007, 2006.
T-79.5102 Special Course in Computational Logic, Autumn 2005.
T-79.161 Combinatorial Algorithms, Spring 2005, 2004, 2003.
Mat-1.4xx Basic Course in Mathematics P1/P2/C1/C3, Autumn 1999 - Autumn 2001.
Instruction of thesis
Evgenia Antonova, Applying Answer Set Programming in Game Level Design, Master's thesis, ongoing (expected 2015)
Laura Koponen, Constraint-based optimization of Phylogenetic Supertrees, Master's thesis, June 2015
Mai Nguyen, Preferential Optimization of University Students' Timetables, Master's thesis, January 2012
Study coordination
Academic coordinator of Master's Programme in Foundations of Advanced Computing (FAdCo), August 2013 ->
Pedagogical Studies
Pedagogical Course for University Level Teachers in Engineering and Natural Sciences (YOOP), approx. 22.5 ETCS, completed in October 2004.