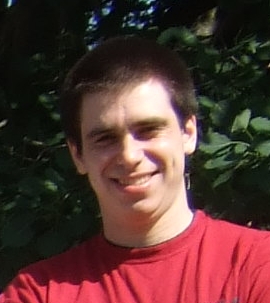 Dušan Sovilj
M.Sc. (Tech.), Researcher
Office:

Room A344 in Computer Science Building,
Konemiehentie 2, Otaniemi campus area, Espoo

Postal Address:

Aalto University School of Science,
Department of Information and Computer Science,
P.O. Box 15400, FI-00076 Aalto, Finland

Telephone:

+358 45 327 33 11 (personal)

Email:

firstname.lastname [at} aalto.fi
Description
Ph.D. student in TSPCi (now EIML) group started in Sep 2009. I received my B.Sc. in Computer Science at University of Novi Sad (Serbia) in 2006, and my M.Sc. in Technology at HUT in 2009.
Research
Time Series Prediction
Variable Selection for Regression
Environmental Modelling

Abstract
Topic of my Master thesis was variable selection using Delta test in context of selection, scaling and projection, used as a preprocessing step before long-term time series prediction. Currently, my Ph.D. research topic is on developing and applying machine learning tools for Baltic Sea data sets to be used in domain of environmental modeling.
Had a research visit to the Leibniz Institute for Baltic Sea Research Warnemünde in Rostock in June/July 2010 for some intensive biology - machine learning collaboration. Second visit to Rostock in July/August 2011 and again, the same institute.
June 2011, change of working place from B307 to A344. Hopefully my candy stash will remain intact in the new place.
Teaching
Publications
List of Publications. Order by: Type | Date